Today I review A Moment Apart by Odesza, while pairing it with a nice craft brew. Let's get started.
It's crazy to see how Odesza has exploded over the last 6+ years. I discovered them very shortly after their release of their second album "In Return". I think most people assume it was their first – that's partly correct. Their first album was self-released and so didn't have the marketing of a label behind them.
Their previous albums are another topic for another day though. Today we're discussing their biggest album to date. "A Moment Apart" is definitely somewhat of a departure from their sophomore effort. Where I would describe the previous album as being electronic through and through, the latter brings in more pop and guest artists. I think this allowed them to appeal to a much bigger crowd.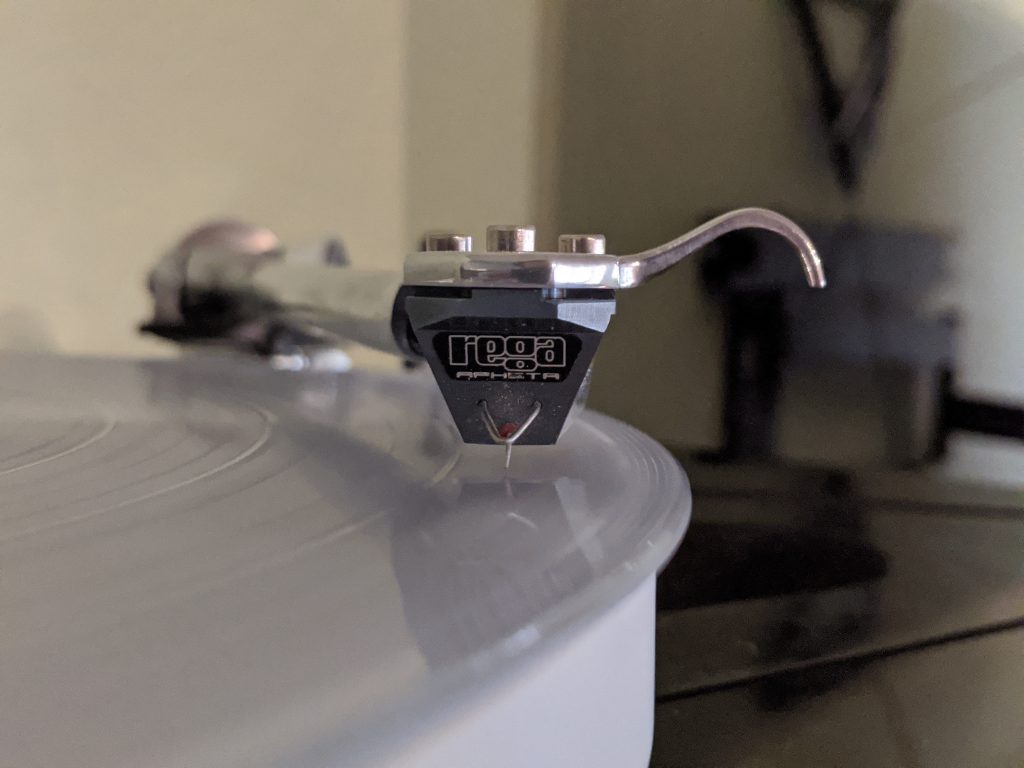 Among those guest artists is a personal favorite, Leon Bridges. Being a Fort Worth resident myself, Leon Bridges is someone that we've followed for some time. In fact, his opening song from this freshman album was the song my wife and I danced to at our wedding. Okay okay, that's enough reminiscing. Leon Bridges dives outside of his normal fare for this collaboration and it's safe to say he hit it out of the park.
Sticking to their roots
A quick note about my vinyl reviews. As I've previously stated, I like to pair them up with a beverage, one which I feel matches the album from top to bottom. More on that beverage later. For now, let's talk really quick about the artist.
If I'm honest, I'm glad that Odesza maintained their house sound. It was something that set them apart in their last album, and it was what allowed them to be catapulted this time round. Like other big bands, Odesza has brought electronic to the masses. This is a rare feat, something that only a few bands have achieved with any kind of success. Off the top of my head, I'm thinking Daft Punk. No, I wouldn't put them in the same category… their styles are definitely different. I'm only speaking to that achievement – electronic for the masses.
Listening Notes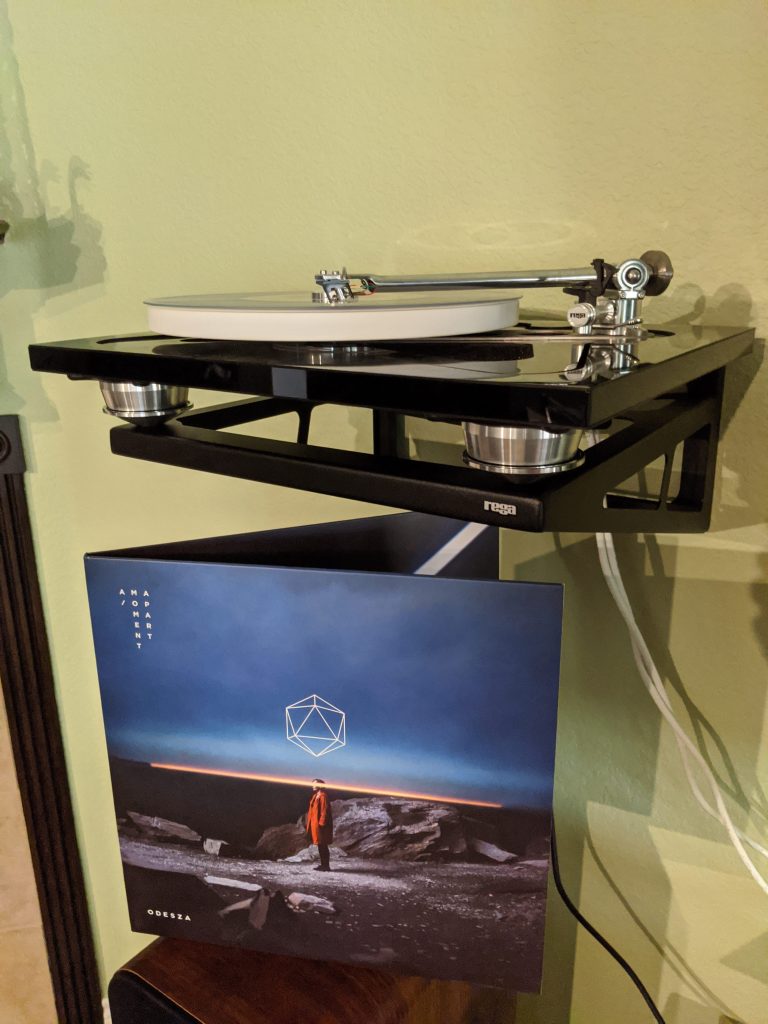 It's a genre of music that is seldom understood, in my opinion. Yes, it has its fans, but it's not something I'd ever expect a country or rock fan to listen to. But they did it. And it's made even more impressive by, you guessed it, sticking to their roots.
The intro to the album – we are met with a woman recalling a story about someone going up into space. It's a short speech, but perfectly sets the tone for the first actual song of the album. It also happens to the title of the album.
And man, is it an awesome opener. I'm going to call it "electronic piano scales and chords", but either way they bounce back and forth between the left/right channels, enveloping you. It gave me goosebumps the first time I heard it. There isn't much singing, but there doesn't need to be. It still sets the mood for the rest of the album.
I'm going to touch on some of my favorite songs from the album. But rest assure that the whole album is pretty wonderful.
The first song with vocals is the third track, Higher Ground featuring Naomi Wild. This was a smart move by Odesza. Immediately following a song without vocals that was undeniably electronic, they put this masterpiece. It has a bit more pop in its step, but still shows its roots. Naomi does a wonderful job with the vocals, really bringing the whole piece together. While listening, I couldn't help but get the feeling the feeling that she really felt what she was saying. Her words do well to sway the listener, and her singing was just a joy. It matches the background melody well, enticing the listener to keep on keeping on with the album.
One of the first singles, Line of Sight, follows the electronic song Boy. More so than the vocals, I feel like the bass and drum line really carry this. Don't get me wrong, I am a huge fan of Mansionair and WYNNE, but that drum line just makes you want to dance. And I did. So did my kid, who immediately started doing is "spinning dance" moves.
My favorite song on the album, for someone obvious reasons. Across the Room featuring Leon Bridges. I cannot say it enough, but Leon really brought the soul to this song. Previously, I didn't know it was possible to mix electronic and soul. But he did it. It's a track that I could listen to time and time again. And I have. I guess I shouldn't be surprised though… when you mix two of my favorite artists, the only thing that could result is a masterpiece.
Just A Memory featuring Regina Spektor. Probably the most well known featured artist of the bunch. And she doesn't disappoint. The song is an interesting one. I could fall asleep to her voice (in a good way). She has a very soothing voice about her, and the melody and bass line definitely carry that same mood – very relaxed and almost ambient. It was about this point in my beer that I started to get very relaxed. That's how you know I'm in a great mood.
Beer of Choice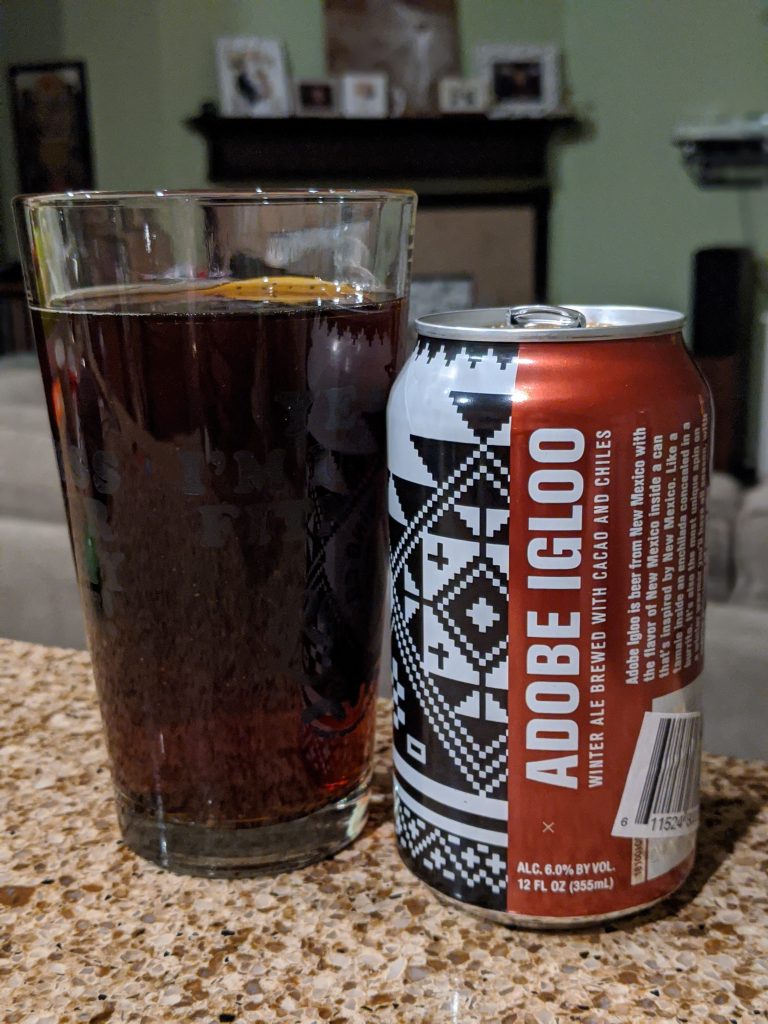 Joining me for this fine album was Sante Fe's Adobe Igloo. It is a fine winter warmer that checks all of the boxes in that category.
I chose this beer because it reminds me of the album, and in some ways, is reminiscent of the new direction Odesza took with the album. It's got the spice and cacao that define a winter warmer, but it's the extra malty flavor that throws me off at times. I mean, I know that that's not odd for this type, but the combination in this one – I don't see it coming.
As I sat there, listening to this wonderful album, I was reminded why I chose this hobby and also why I still drink beer. I like to call it "for the thrill of the hunt". The beer loosens me up, and allows me to really focus in on the music. It's easy to feel like I'm center stage at times like this.
Yes, the Adobe Igloo isn't a legendary beer, but it doesn't have to be. It gets the job done, and it does it well. I have no complaints choosing it as my companion for this album.
Closing Thoughts
Odesza really came through with their third album and I can't wait to see what they come out with next. The collaborations were tastefully done and truly brought electronic music to the masses. I paired the album with a great winter warmer by Sante Fe brewing, which I thought was a great companion to the out-of-our-comfort-zone music that was being played.
Until next time!