Welcome back to the next installment of my vinyl 'n beer series. As an avid music and beer enthusiast, I often find myself mixing the two. In my opinion, a good beverage is the perfect companion for sitting back and enjoying the tunes flowing from your system.
In my last post, I delved into an older album – Plastic Beach by the Gorillaz. For this one, I'd like to feature a platform that I've been following for quite some time now. I discovered Chillhop Music (or Chillhop Records) randomly while perusing new music on bandcamp, my absolute favorite site for new, exciting (and sometimes obscure) music. I started following them roughly two and a half years ago and haven't stopped since.
On a seasonally basis, they release a compliation album featuring the latest and greatest beats to sit back and relax to. The collection is aptly named "Chillhop Essentials". Being seasonal releases, they named after the season and year, starting with Spring and finishing out the year with Winter. Speaking about the collection on a whole, they do a wonderful job of curating music that really conveys its respective season. Without even looking at the title, I doubt anyone would be able to "feel the season" whilst listening.
The System
A quick note about the system being used for playback. The album is being played on my trusty Rega RP10 with Apheta MC cartridge, feeding a Rega Aria phonostage. For the amplifier, I'm using the venerable Rega Osiris. The speakers take a bit of a detour with the Q Acoustics 3050i. Still, I think they'll do a fine job revealing the subtleties, especially given the components that precede them.
Onto the "Chillhop Essentials"
I only recognized a few artists from this release – L'indécis, sleepy fish, and a personal favorite, Philanthrope. Alright, let's dig in. Instead of talking about every track, I'd like to point out a few that grabbed my attention.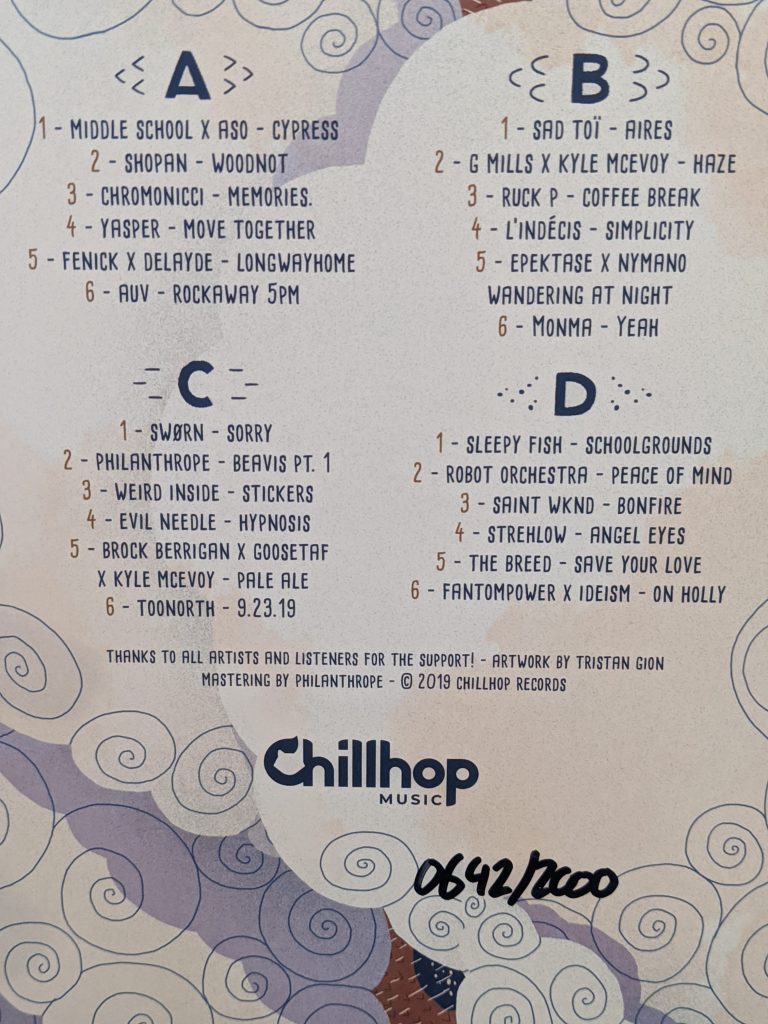 The first thing that comes to mind on the opening track is "peace", not like world peace, but in the sense that you're settling down. With a track name like "Cypress", it should be no surprise about the mood this opening track is setting. It made me want to settle down even further into my seat.
Another track that, strangely or not, continued to capture my attention was "Move Together" by Yasper. It brought me back to OG Ratatat with their melodic vibes that, while carrying the same general tune throughout, change enough that there's a definitive beginning and end. But just like any Ratatat, I keep coming back to it again and again as a single. Is it the best track on the album? No, I don't think so. Is it one of the most memorable (for good reasons)? Definitely
The rest of Side A and B continued this theme. The music was very relaxing and conveyed that absolute sense of peacefulness. The bass lines were tight and melded perfectly with the melody to help keep me planted where I sat.
Philanthrope again delivered a wonderful piece by the name of "Beaver Pt 1". On first listen, it felt a little sparse but the more I sat there whilst enjoying my beverage, the more it hit me that less is more in this case. They leave just enough between the notes for you to fill in the rest with your imagination.
"Schoolgrounds" by sleepy fish is another that immediately caught my attention. Okay, you can call me a little bit of a fanboy, but their melodic rhymes are always on point and always deliver that dreamy mood that is perfect for unwinding in the evenings after work. Bravo.
The Beer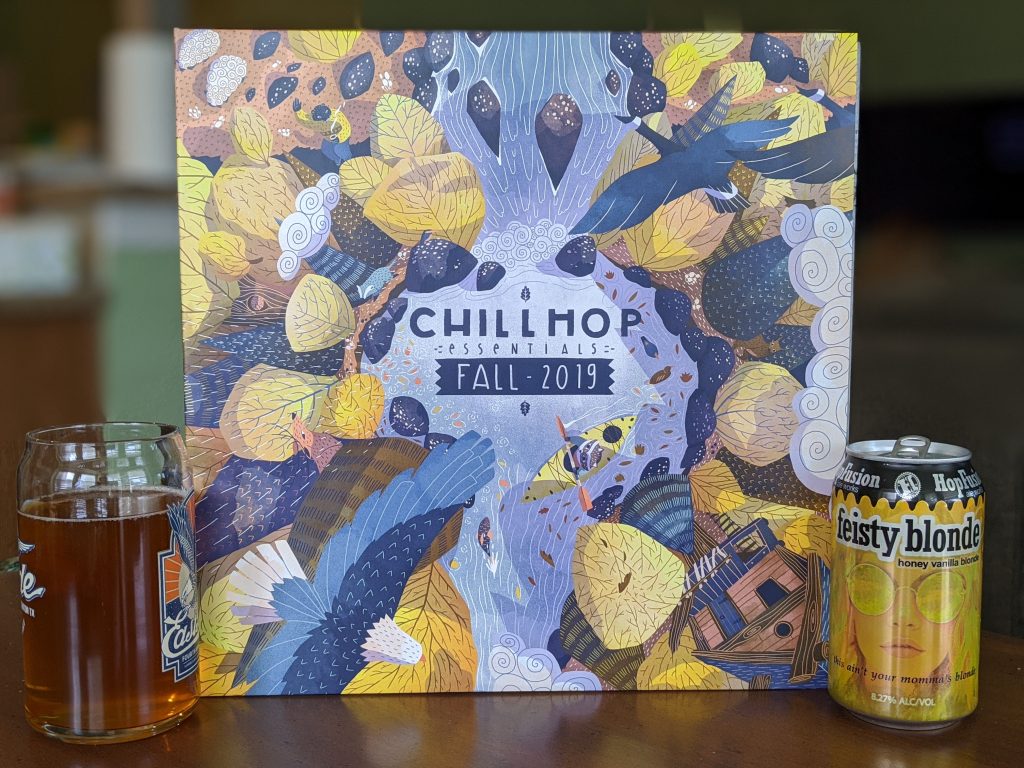 The time around I have with me the ever-wonderful HopFusion Fiesty Blond. Despite the name, this is a beer that defies logic with its smoothness. Upon first listen of this album, this was my immediate go to. Such a relaxing and do-good album deserves an equally well deserving beer.
Onto the flavor, I can without a doubt say that the brewery nailed this one. With a hint of orange and vanilla, it's easy to see why this one has continued to be popular after its initial introduction.
Closing Thoughts
If you follow Chillhop on social media, you would know that the Fall release is one of the favorite releases of the year. And it's easy to see why. Just like Fall being a period of time where people are transitioning from spending more time outside to more time indoors, this album follows that beat to the tee with great tracks for every mood and every type.