In this final chapter to my Advent Calendar posts, I'd like to take a moment to thank my wife who has put this together every year four years running. I know that four years may not seem like much, but when you consider that it's always beers I've never had, I'd like to think it's impressive.
The previous part of this triple parter can be found here.
Let's Get Cracking
Starting with #19 onwards, we can be guaranteed that these final beers will be excellent. First up is the Stone Xocoveza. When I opened this, I was a bit fearful. For the longest time, the only thing I associated with Stone was hops, hops, and hops. I was pleasantly surprised here to find a deep stout that I would definitely have again. I rated it a 4.25/5.
I know I've said it before, but creative names always wins points in my book. I know it has nothing to do with the taste, but I do love a good presentation. Destihl's Haze of the Dead comes in at #20. If I had to pin this flavor to a single word, it would be "juicy". There's a wonderful balance of hops to malts with a great mouth-feel. While not the most flavor packed ever (hard to do in my opinion with an ipa), this one is still super solid. I gave it a 4/5.
At the #21 position we have Bruery's White Chocolate Wheat Wine. Yea, that's a lot, I know. This really tastes like a barley-wine to me. Looking up the description, that seems to be the core ingredient. It's unbelievably drinkable. Before I knew it, I had downed an entire glass of something meant to be a sipper. In the end, I rated it a mighty 4.75/5.
At #22, I have a soft spot for beers that come with corks. These beers from Firestone Walker are almost always guaranteed to be something special. And this time is no different. For only being 6.5%, the Brambling Bones from Firestone Walker had both the depth and breadth that one seeks in an ale. Raspberry, cherry, and black currant come through balancing very nicely with the hops. I rated it a top notch (and ultra-rare) 5/5.
For this next one, it's hard to believe that I've never had it before. What I think is more likely is that I've had it, but I was far too…. inebriated to remember to check it in – most likely back in my hay-days before having kids and having to become an responsible adult. Anyways, Founder's Breakfast Stout embodies everything wonderful and wholesome that someone would want in their stout. That's all there really is to say about it. I gave it a 4.25/5.
Last up in this trio is #24, The Bramble from the Bruery Terreux. When I opened this, I was quite surprised to find that it was no longer in production. It's always quite the treat to have something no longer made, but at the same time kind of sobering in a "I'll never be able to try this again" kind of way. I always treat these beereverages with a special kind of respect. This wild-ale was sweet, sour, and everything inbetween. I think raspberries work wonderfully in beer and this is no exception. Despite the pomp and circumstance though, I ended up giving this one a 3.75/5. Don't get me wrong, it was good, but it just didn't hold a candle to some of the previous ones I've enjoyed.
I'm always interested to see what made it into the prized final slot at #25. This year, I was even more surprised to see it was yet another Founders beer.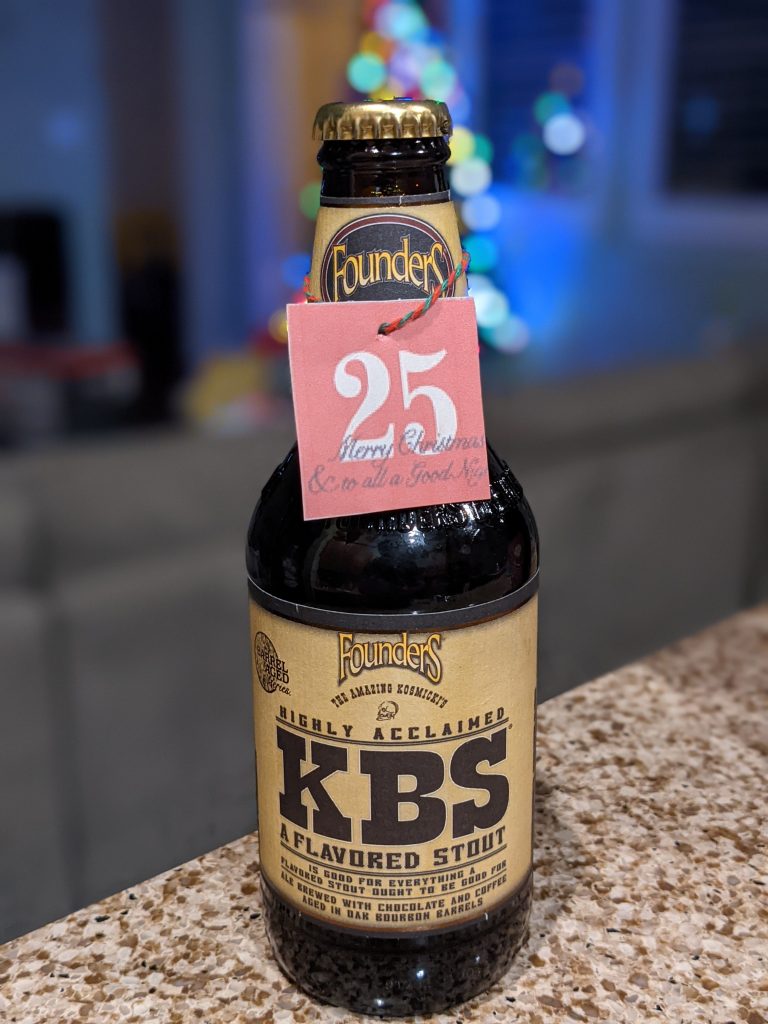 I've heard much about the KBS, but I have never had the pleasure of trying it myself. Is it as good as they say? In short, yes. I'll say outright that I have it a 5/5, which is a fitting end to the month long advent calendar.
If you like coffee, chocolate, and a strong barrel-aged whiskey taste, then this will be for you. But don't worry, it hides the 12% ABV with near perfection. I look forward to the chance of enjoying this one again.
So, while I finished these 25 beverages over a month ago, I still have fond memories of the top five breweries. Am I surprised by who made it into that esteemed list? No, but why should I? The breweries that made it here are well established as being the top of the class in their field.
The only thing left to say is that I'm tremendously looking forward to next year! Cheers.